Reasons to Give
Our promise is to our patients and to the people who love them. It is, simply stated, to provide children and women with the best possible medical care and to return them to the work of being themselves again. A gift to Texas Children's Hospital helps us to give every child the opportunity for a healthier future.
Fundraising Priorities
Promise: The Campaign for Texas Children's Hospital is a comprehensive $475 million development campaign that will help ensure the future of Texas Children's Hospital as the leading pediatric and women's health care provider for greater Houston, the state of Texas and beyond.
It will focus on five key initiatives: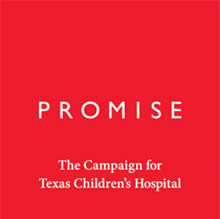 Critical, Surgical & Emergency Care Services
Improvements and expansions to the critical care units, operating rooms, Post-Anesthesia Care Unit and Emergency Center at our Main Campus.
Texas Children's Hospital The Woodlands
A new 548,000-square-foot dedicated pediatric hospital serving the growing communities north of Houston.
Endowed Chairs
A powerful tool in recruiting and retaining world-class physicians and scientists.
Divisions & Centers of Excellence
Support for the ongoing specialty care we provide every day.
Charity Care & Hospital Priorities
Texas Children's Hospital's activities in the community, including charity care, and directing funding and support toward our most pressing needs.