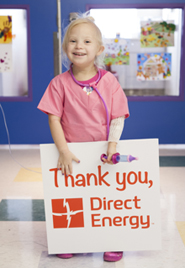 Texas Children's Hospital has existed for more than 60 years and is well known throughout the country and the world. A corporation's philanthropic investment in Texas Children's provides the hospital with valuable resources to establish and expand priority initiatives that in turn directly impact the communities where our corporate partners' customers and employees live and work. At Texas Children's Hospital, we believe in the power of philanthropy with a return on investment. We depend on corporate philanthropy to help drive advances in pediatric care, education and research to benefit children here in Houston, across the nation and around the globe.
Texas Children's is proud to welcome Direct Energy as one of its inaugural Corporate Ambassadors members. Direct Energy has made a $5 million commitment in support of Promise: The Campaign for Texas Children's Hospital. Their commitment is the largest corporate gift ever made to a Texas Children's campaign priority and will be used to help expand Texas Children's Heart Center to serve even more children with the most complex cardiac needs.
For more information about Corporate Ambassadors, please contact
Fanny Brown at 832-824-1933.