Shop to Give
Make Your Shopping Count
Select shopping sites donate a percentage of purchases to Texas Children's Hospital
Texas Children's Hospital has teamed up with a number of vendors to provide donors and friends with many opportunities to help support the hospital while they shop.
Kohl's Cares for Kids
| | |
| --- | --- |
| | Kohl's Cares for Kids program supports Texas Children's Hospital through the sale of books and plush toys four times each year. All items go on sale for $5 each. Net proceeds benefit Texas Children's Hospital. |
The Blue Bird Circle Resale Shop
Grocery store contributions
Texas Children's Patient Family Assistance Fund benefits when shoppers use the Kroger ShareCard or the Randalls Remarkable Card. The patient family assistance fund helps patients' families with special expenses that may occur during their childs' illness.
Kroger: To make a donation at Kroger, simply present a Kroger ShareCard to the cashier. Print your own Share Card here (pdf).
Randalls: To make a donation at Randalls, connect your Remarkable Card with the Texas Children's Good Neighbor number (#2637) by printing the Good Neighbor application (pdf) and dropping it off at the service desk of your local Randalls store.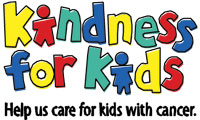 Kindness for Kids
The 2013 Randalls Food Markets Kindness for Kids campaign benefiting the Pediatric Gene Research Program at the Cancer Center runs February 18 through March 11 at areas stores. You may purchase a cutout kid for a $1 donation at the check-out stands.
Randalls supports Texas Children's through its annual Kindness for Kids fundraising campaign. The campaign raises funds for the pediatric cancer gene research program at Texas Children's Cancer Center. Special thanks to all Randalls employees and customers who participate.
Add a Miracle Balloon
Our Children's Miracle Network sponsor stores are helping raise money for Texas Children's through Miracle Balloon campaigns. The paper balloons and other icons (like hearts, footballs, snowmen, etc.) sell for $1 each, and 100 percent of the proceeds from Miracle Balloon purchases go directly to support Charity Care and its various programs at Texas Children's Hospital.
Next time you make a purchase at one of the participating Children's Miracle Network sponsor stores, make your shopping count by adding a $1 Miracle Balloon to your total.
Many Miracle Balloon campaigns are seasonal.
For more information about making a gift through your shopping, call our Community Gifts office at 832-824-2120 or email at jlsmart@texaschildrens.org.