When Least Expected
A Vannie Cook Clinic Social Worker's Story of Gratitude, Perspective and Determination
Yadhira Huerta has been a social worker at the Vannie Cook Clinic for 10 years. She's spent days, nights and weekends helping patients and their families get the resources they need to fight cancer.
Her work is impeccable and her advice always sound. But it wasn't until recently that she understood exactly what families go through.
On an afternoon in December 2020, Huerta's then 13-year-old son Diego began complaining of chest pains following a series of tough workouts.
"He was getting ready to go into 9th grade and had been exercising quite a bit to bulk up," Huerta said, "so when he complained, we assumed the pain was from lifting weights."
But shortly thereafter, he started having trouble breathing. "My husband and I decided to take him to the doctor to rule out COVID, and during that appointment is when a suspicion of cancer arose. The suspicion was strong enough for the physician to refer Diego to the Vannie Cook Clinic."
Dr. Rodrigo Erana, an oncologist Huerta works with every day, was called in on the case. He discovered a mass in Diego's chest and a spike in his white blood cell count.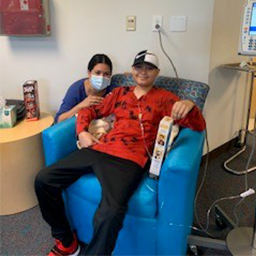 Diego receiving chemotherapy
"When they told us that Diego had T-Cell leukemia, the room started spinning. For 17 years, I have worked as an oncology social worker and nothing – absolutely nothing — can prepare you to be the parent of a child with cancer. All of a sudden, the advice I had given to so many families didn't mean much at all."
Sadness and shock were her first emotions, but Huerta says gratitude soon followed as her coworkers overwhelmed her with love and support. "When you've worked at Vannie Cook as long as I have, your co-workers are like family. And it quickly became a family affair," she said. "I felt incredible gratitude for this clinic and the fact that high quality care is so close to home. I've always believed in Vannie Cook and its mission, but overnight I believed in an entirely different way."
DHuerta, her husband (Ricardo), Diego, and Diego's siblings (Angela and Ricky) plan to stick close through the three-year journey. Huerta is continuing to work full-time as a social worker and feels fortunate to continue serving the mission as the clinic celebrates it's 20th anniversary this year.
"My son's diagnosis has informed and empowered my work," she said. "I've always given the best advice possible, but now I give it with a new level of empathy and energy. I'm both optimistic and realistic, which forces me to take my son's journey one day at a time – and that's exactly what I would tell any of our families."
"The truth is that I never thought I would be in this position, but my story goes to show that cancer can happen to anyone. And if it does, the mission of a clinic like ours is heaven sent. My hope is that support for Vannie Cook remains strong for another 20 years – and beyond."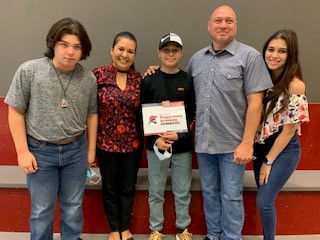 Diego on his promotion to 9th grade
The mission of the Vannie E. Cook Jr. Children's Cancer and Hematology Clinic is to provide treatment to children in South Texas who suffer from cancer and blood disorders regardless of their ability to pay. It is the region's first state-of-the-art pediatric hematology/oncology clinic and the only comprehensive pediatric cancer treatment facility in South Texas. Since 2001, over 10,000 families have found the care they need right where they need it most, in their own backyard.