Texas Children's physicians treat rare disease
By the time he was just three months old, Tate Tucker had suffered from a long list of infections, including fungal pneumonia. His local doctors and parents were baffled at first. What was making this baby boy so sick?
When he was just three months old, Tate Tucker contracted fungal pneumonia, a potentially life-threatening lung infection. This infection is rare in a child so young, but it was only the latest in a string of infections he'd suffered since he was eight days old.
Tate's parents, Kacy and Jordan Tucker, were frightened and confused. What was making their baby boy so sick? Unfortunately, there was no pediatric hospital where the Tuckers lived, and local doctors were unable to diagnose Tate's condition.
Then at ten months, Tate developed shingles on his leg. Thankfully, the dermatologist treating him remembered a rare immunodeficiency disease associated with frequent infections and had Tate tested.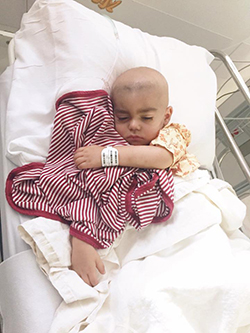 The results came back positive for chronic granulomatous disease, or CGD. The dermatologist said Texas Children's Hospital was the best place to help Tate. "From the moment we arrived, we knew we were in the right place," Kacy said.
At Texas Children's, Tate got top-notch care from doctors and nurses who had successfully treated CGD and other rare diseases.
He needed a bone marrow transplant to help his immune system fight the disease. His medical team started treating Tate with anti-fungal medications to fight off any potential infections so he'd be healthy for the complex transplant procedure and long recovery.
Bone marrow transplants leave children at high risk for infection. Tate and Kacy needed to stay in the protective isolation of the Bone Marrow Transplant Unit for three months while he recovered.
"I've never seen care like that before," Kacy said. "The people here are awesome. We're so lucky we found Texas Children's."
Even after he left the hospital, Tate was tired and weak. He had to make the nine-hour trip from Oklahoma weekly for treatments and was readmitted to the hospital five times. Tate has faced all this with a sunny, positive attitude. Now he's three years old and getting stronger. His platelets and hemoglobin are normal, and we expect to see his T cells activate soon. He's a tough and brave little boy who's winning an epic battle against a baffling and rare disease. Now his family looks forward to seeing him do all the things a little boy should be doing: playing in the park, wrestling with his big sister, and making happy memories.