Texas Children's Performs Life-saving Surgery Before Birth
Doctor's discovered a tumor that covered Arya's face while she was still in her mother's womb. Learn how Texas Children's performed the surgery that saved her life.
When Maggie Dozler went into labor at 28 weeks, she didn't anticipate the terrifying journey that was just beginning for her and for her unborn daughter, Arya.
An ultrasound showed what looked like a bubble coming out of Arya's nose. Thankfully, her doctor didn't hesitate. He immediately contacted Texas Children's Hospital, and Maggie was soon rushed by ambulance to Texas Children's Pavilion for Women.
Doctors at the Pavilion performed an amniotic fluid reduction to stop Maggie's labor -- for the first of nine times during what would be an 8-week stay. MRI scanning and a 3D ultrasound also confirmed that Arya had a large tumor called a cervical teratoma that was blocking her airway and protruding from her nose and mouth. It obscured almost all of her face. This was the "bubble" seen in the earlier ultrasound.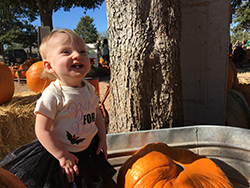 A photo of Arya choosing a pumpkin
It's heart-wrenching for Maggie to think what might have been if her doctor hadn't quickly sent her to Texas Children's. Born early with a tumor obstructing her airway -- and without a team of specialists to intervene -- Maggie knows that it's unlikely her daughter would have survived.
Otolaryngologist Dr. Binoy Chandy, part of Arya's surgical team, explains, "It's so beneficial to have the exact right type of specialist on hand, not just for delivery, but for the earliest stages of planning and follow-up care as well."
Through a highly specialized birthing procedure, the surgical team partially delivered Arya via caesarian. They kept her umbilical cord and placenta attached, which bought them critical time to do a tracheostomy on her tiny airway. Then they brought her fully into the world.
Despite the tumor still blocking her windpipe, Arya could breathe!
"The first couple of days, we weren't even able to touch her. It was really hard," remembers Maggie. Then there were a number of unanticipated complications, which delayed the removal of Arya's tumor.
There were still many unanswered questions facing Arya on the day of the surgery to remove her tumor. How much reconstructive surgery would she require? Would there be problems with her eyes? But it quickly became apparent to the Texas Children's surgeons that Arya's tumor had been attached by only one tiny bit of tissue to the top of her nasal cavity. "They made one little cut, and it was out," says Maggie.
At first, Arya's jaw was distended from the tumor, and it looked as though she would have a lot of disfigurement and might need considerable reconstructive surgery. But her nostrils and lips have reverted to their normal shape. She did need surgery for her cleft palate, but little else.
"You'd never know that's the same child," says Maggie. When she is walking down the halls of Texas Children's, people will stop her and ask about Arya, not realizing that the baby she is carrying is the same one they treated.
Arya turned one last fall. Looking at her now, no one could suspect a tumor once hid her beautiful face. "I've had two doctors stop and cry out in amazement in the hallway because they can't believe this is the same child they cared for in the NICU," says Maggie.
Arya's speech is still delayed, but she's walking and learning to swallow food. "She's just the happiest baby," says Maggie. "It's amazing. She's a regular kid!"
In her support group for children with tracheostomies, Maggie has met many parents and listened to their struggles. And she always tells them, "Go to Texas Children's."