Swift Action Saves Patient with Rare Autoimmune Disorder
When Hadley arrived at Texas Children's Hospital four years ago, she was close to death. Immediately, doctors and nurses sprang into action.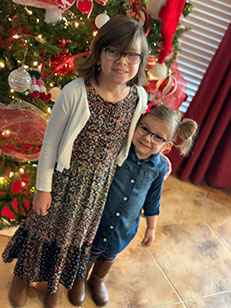 After careful evaluation, the once vibrant and bubbly three year old was diagnosed with autoimmune encephalitis (AE), a rare disease that caused her immune system to attack her brain—literally overnight and without warning. Hadley was also suffering from a metabolic disorder.
"She had antibodies that were destroying her brain," Hadley's mom, Devon, said. "The fact that Texas Children's Hospital acted so quickly was absolutely what saved her."
During a month-long stay at Texas Children's, Hadley underwent successful treatment for AE, learning to walk, talk, eat and function all over again.
Today, 7-year-old Hadley loves being in first grade. She's meeting all of her educational milestones, and her creative and crafty personality is shining through.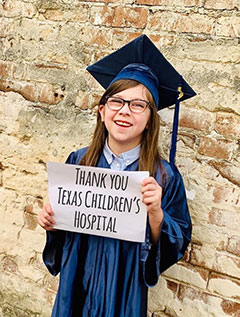 She has even started taking piano and gymnastics lessons.
Unfortunately, Hadley's little sister, Hollyn, has also been diagnosed with the same metabolic disorder, sparking concerns that she may also develop AE. Because this disease is so rare, however, there is no test to detect it. All her parents can do is watch their daughter closely for indications of the onset of the disease and rest easier knowing that Texas Children's experts will be ready to respond again if needed.