One Family's Loss Sparks Charitable Giving
After losing their daughter, Vanessa, to a heart defect, this family started a foundation to help cardiac patients at Texas Children's.
On December 1, 2004, our second daughter, Vanessa, arrived to complete our planned family. A terrific holiday followed as we shuttled her from one relative's home to another.

About a month later, Vanessa couldn't sleep comfortably. My wife, Janie, had an instinct that something was not right. Finally, an x-ray revealed an enlarged heart. We were immediately sent to Texas Children's Hospital, where Vanessa was diagnosed with dilated cardiomyopathy, a defect in which the heart muscle is abnormally large and weak and is unable to pump blood correctly to the body.

About a third of patients with this condition recover and function normally, another third need medication, and the remaining third require a transplant or simply don't make it. We were very optimistic that our happy and healthy-seeming daughter would be in the first category—or maybe the second.

To our disbelief, Vanessa did not get better and ultimately lost her battle with dilated cardiomyopathy on April 7, 2005.

We want to share our story as a tribute to the doctors, nurses and staff at Texas Children's—especially to those in the cardiovascular intensive care unit. Simply put, we had the most devastating outcome possible. But after all the despair and anguish we experienced, now nearly six years later, we still maintain only the fondest memories of the care we received during our time at Texas Children's.

We're not sure what it is that calls doctors and nurses to do the jobs they do, but we are so grateful they are there. Their positive attitudes and energy were amazing; they answered all our questions and went in search of more answers when necessary. Sometimes it seemed our daughter was the only patient they had. They cared so much, and we can't help but think that extended the amount of time we were able to spend with Vanessa. Today we are proud to call many of those caregivers our friends.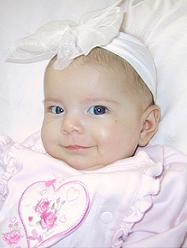 While we miss our little angel more than most can imagine, we determined early on that we would find the meaning and purpose for which she had been sent to us. The memories of her strength and smile have compelled us to create Vanessa's Big Heart Foundation (VBHF) to help fund pediatric heart research conducted at Texas Children's and to contribute to Camp Pump it Up, an annual summer camp getaway for the hospital's current and former cardiology patients.

VBHF is an official charity of the Houston Marathon and participates annually in the race to raise funds. This year, Team "Big Heart" had 82 runners and raised nearly $50,000.

The only way to truly alter the course of any disease is through research. We know that Texas Children's has the leadership, facilities and commitment to lead the world in pediatric heart research, and we are honored to be part of it. We Houstonians are so fortunate to have all of this right here.

Janie and I look forward to visits to Texas Children's, to receiving updates regarding new methods of care and treatment for the kids, and to presenting a check each year on behalf of Vanessa's Big Heart Foundation.

We want to express our sincere thanks to everyone at Texas Children's for all they did for little Vanessa and for all they continue to do for other sick children every day and night.