Hope Begins Here
Natalie never thought the "shape of a lemon" would change her life. But at the 12-week ultrasound during her pregnancy, she was told that her tiny daughter's brain was shaped like a lemon. The doctor said it indicated that her little Emerson had spina bifida.
"What does that mean for my daughter?" Natalie asked. What she heard next left her head spinning. "I remember phrases like paralysis, inability to walk, bowel and bladder problems, brain damage and poor quality of life," Natalie said. "I felt like a thousand bricks had fallen on top of my chest. I could hardly breathe."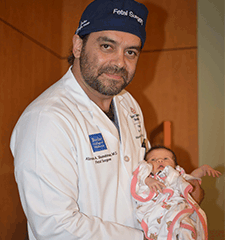 Emerson with Dr. Shamshirsaz
Natalie decided to learn all she could about the disease. She discovered that only an extremely limited number of hospitals were performing surgery to repair spinal defects like Emerson's before the baby is even born. "We were fortunate enough to have one of those hospitals right in our backyard — Texas Children's Hospital," Natalie said. "My fear and devastation turned into hope and optimism."
Natalie immediately reached out to Texas Children's. There, she had extensive diagnostic testing and meetings with numerous specialists to see if she and Emerson were candidates for in utero repair. And they were!
Emerson and Natalie underwent surgery at 22 weeks. Afterward, Natalie had weekly check-ups to monitor Emerson's progress. In only a few weeks, doctors could already see improvements in the baby's brain structure. "I always looked forward to our ultrasounds so I could see how active she was," Natalie said. "It was amazing to see her little legs kick each time!"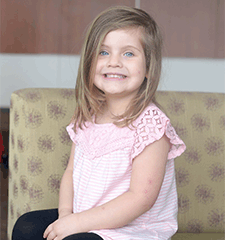 Emerson Grace
Emerson Grace was born the morning of April 1, and after 10 days in the neonatal intensive care unit, she was able to go home with her parents and older brother.
Today Emerson is 5 years old and doing great. "She's wonderful," Natalie said. "She's running, she's walking and she's super intelligent. Just a couple of days ago, she was walking up the stairs without holding onto the railing, which was amazing because initially we were told she would not even be able to walk."
"Looking back, I have no doubt that pursuing fetal surgery at Texas Children's was the absolute best choice for Emerson and our family," Natalie said. "Texas Children's definitely cares about their patients, and we couldn't have asked for a better experience overall."