From hydrops to hope
If you met Amelia Grace, you would be best friends immediately. The 4-year-old never meets a stranger. While in the womb, Amelia developed a condition called hydrops — an excessive accumulation of fluid that is fatal if left untreated.
"My pregnancy was uneventful up until the 29-week mark," said Amelia's mom, Carissa. "That's when doctors diagnosed the syndrome and recommended aggressive treatments — before Amelia was even born."
There were no words to describe the anxiety Carissa felt. There were so many unknowns.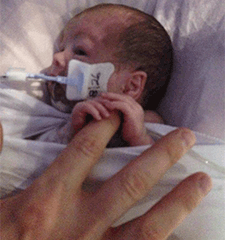 Amelia in NICU
"It was a frightening time. It's difficult to even describe what this was like — being told that your baby is very sick and not knowing whether she would survive or not," Carissa recalled.
Little Amelia was fighting for her life! Thank goodness she and her family weren't fighting alone. The compassionate experts at Texas Children's Hospital were by their side.
"The comfort of knowing we were at a great hospital — one that people come to from all over the world for the best care — gave us incredible peace of mind," Carissa said. "We trusted our team of doctors and felt comfortable asking question after question. We knew they would do everything they could to save our baby."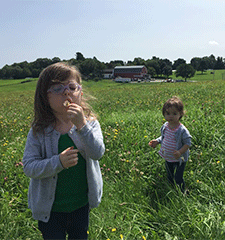 Amelia and sister Penelope
While in the womb, skilled doctors used an ultrasound to place shunts in Amelia's back to drain accumulated fluid.
Carissa shared, "The skill of these doctors cannot be overstated. We didn't even know such a thing was possible!"
The surgery drained some of the fluid and bought more time, though Amelia would soon require additional care.
"She was getting very sick, and the doctors needed to go ahead and get her out," Carissa said. "Amelia was born at 31 weeks, weighing three pounds, three ounces."
She was immediately handed off to the Neonatal Intensive Care Unit (NICU) team in the operating room, and they worked quickly to stabilize her.
Amelia and her team fought hard. And after a roller coaster of three-and-a-half months in the NICU, Amelia went home!
Friends like you gave Amelia a fighting chance.
"Our support system at Texas Children's was incredible. Today, she's a perfectly normal and healthy little girl," Carissa said. "She's active, funny and smart. Amelia still bears her battle wounds from the shunts and tubes, but every time I see her scars, it reminds me of what a true miracle she is. She really is brave and fearless."