From heartache to hope
Learn how Eli went from being in grave danger while still in his mother's womb to the happy 1-year-old he is today.
At only 16 weeks in utero, Eli became one of Texas Children's youngest patients.
What should have been a routine ultrasound revealed shocking news. "I was going to hear my sweet baby's heartbeat," Lacey, Eli's mom, said. "However, to my surprise, I found myself in complete heartache and pain."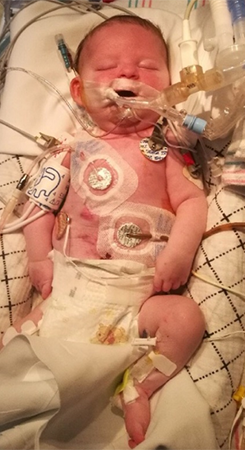 A photo of Eli during treatment
The ultrasound showed that Eli's bladder had enlarged and was backed up with urine. He was diagnosed with a very rare condition called lower urinary tract obstruction (LUTO).
The severity of the situation meant that Eli's bladder had to be drained. "We were told it was very risky and that Eli could die," Lacey said. "But we felt like we had to do something to give our baby a chance at life."
It was then that Lacey and her husband found Texas Children's. They traveled from Louisiana to Texas for the lifesaving surgery. All in all, Eli had three procedures to drain his bladder and three surgeries — before he was even born.
At 37 weeks into her pregnancy, Lacey had an emergency C-section and Eli was rushed to the neonatal intensive care unit (NICU). "We lived moment-to-moment, taking each minute as it came," Lacey said.
From the very first day of his life, Eli was on a ventilator, and he had catheters, feeding tubes and chest tubes. He underwent numerous X-rays, MRIs and EEGs. He had dialysis, blood transfusions and was on countless medicines.
"The feeling of seeing your baby in that condition and fighting for his life is indescribable," Lacey said. "I had to completely place my trust in the nurses and doctors that they would take care of Eli like I would, and they did."
She continued, "All the doctors and nurses at Texas Children's Hospital who are part of the fetal intervention team and the NICU will forever have a special place in my heart because without them and God, Eli wouldn't be here with us."
Eli stayed at Texas Children's for six months. Today, he is a happy 1-year-old who is full of smiles and coos. For now, he will do daily dialysis until he gets a transplant at his second birthday.
"Our journey is far from over," Lacey said. "But honestly, I feel in my heart Eli's going to be okay because he's been showing us great signs and meeting his milestones."