Baby Born Perfect After Receiving Treatment in the Womb
After receiving the devastating news that their unborn son had a potentially fatal condition, these parents put his life in the hands of Texas Children's medical team.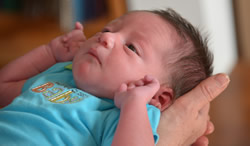 "I'll never forget the sinking feeling in my stomach." That's how Mari recalls finding out that her unborn baby boy, Rafi, had a condition called hydrops—an excessive accumulation of internal fluid that can be fatal if left untreated.
An ultrasound at Texas Children's Hospital revealed that a virus caused the buildup around Rafi's heart and abdomen, leaving him unable to produce healthy red blood cells to carry enough oxygen through his body. As a result, he was severely anemic.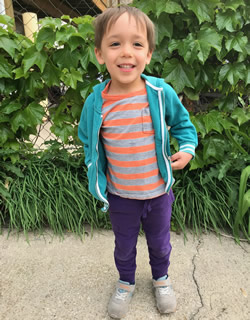 Doctors acted quickly. Rafi received two blood transfusions while still in the womb to help keep him healthy until the virus passed.
Rafi's condition was monitored every day, and thankfully, each day brought more good news. Doctors continued to measure small decreases in the hydrops until the much-anticipated day when the ultrasound revealed a perfectly normal, active baby boy.
"We feel so incredibly lucky, thankful and blessed to have landed in the hands of the team at Texas Children's," Mari said.
Two weeks before his due date, Rafi was born. "He was perfect!" Mari said.
Today, Rafi is 4 years old. He's had no medical complications, and he's hitting every developmental milestone.
"The care and commitment of our doctors and the many nurses who spent time with us made us feel like we were the only patients," Mari recalled. "Because of their expertise and love, we now have a little boy who is full of joy, laughter and curiosity."