A Double Miracle
One family fights breast cancer and a heart transplant

Riki Graves won't ever forget her 38th birthday.
She and her husband Chris had recently learned that she was pregnant with their second child, a little girl. So on the morning of Riki's birthday, she was joyous with expectation.
That very afternoon, Riki learned she had breast cancer.
After a consultation with her primary care provider and oncologist, she was immediately sent to Texas Children's Fetal Center to see a specialist in high-risk pregnancies, including pregnancies compromised by cancer.
The situation was serious. Then it got worse.
A routine 20-week fetal echocardiogram revealed that her unborn daughter, Juliana, had multiple congenital heart defects and might not survive the pregnancy.
"Hearing this news sent a panic through me that even now is hard to describe," Riki said.
Surgeons from Texas Children's congenital heart surgery team began monitoring Juliana's still developing heart. And while it would clearly put Riki's own health at risk, she made a mother's selfless decision to suspend her cancer treatment in order to give Juliana the best possible chance for survival.
In the beginning, Riki said, surgeons had suggested that Juliana would likely require three separate heart surgeries soon after birth. But as Juliana's heart continued to develop, Riki and her husband were told that it was no longer clear what surgeries—if any—might be able to repair Juliana's devastating heart defects.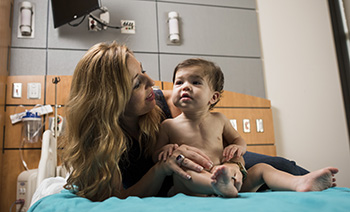 An echocardiogram at 34 weeks gestation showed Juliana's heart was getting weaker, and Riki was moved to Texas Children's Pavilion for Women for closer monitoring. Suffering fetal stress, baby Juliana was delivered by cesarean section two weeks later. She was four weeks premature, and her parents were devastated to learn that her heart was too structurally abnormal and weak to undergo surgery.
"It seemed unlikely that she was going to survive even if she became a candidate for a transplant. Nothing would be able to help our beautiful baby girl fast enough. She was in heart failure and very sick. We got Juliana on the transplant list and prayed for a miracle," Riki remembered.
Juliana was born on April 9, 2014, and was put on the transplant list on April 21. The odds of getting a new heart in time were not good.
"Amazingly," Riki recalled, "five days later we got a call in the middle of the night that there was a heart for her. It was really scary—because she was very, very sick going into surgery—but it was her only chance."
Juliana received her new heart when she was just 17 days old. She is the youngest baby ever to have a heart transplant at Texas Children's.
Two months later, her elated parents welcomed Juliana home. Soon after, Riki began radiation therapy to treat her cancer.
Despite grave odds, mother and baby are both doing fine. Juliana receives occupational and physical therapy each week and has follow-up clinic visits every few weeks. Riki's cancer treatment was successful.
"Juliana has been doing really well since she's been home," Riki said. "She's a fighter. She's strong-willed, very sweet and loving. On the flip-side, she is very feisty. She always keeps us on our toes but she is a wonderful, sweet little addition to our family."
"I can't say enough about the people at Texas Children's. They take such great care of the children.