Newborn Center Patient Family
Eva and Layla are happy and loving twin girls who enjoy playing outside, creating works of art and spending time with their family. Looking at them today, no one would ever know that these girls came into this world so tiny and fragile that they had to fight for their lives.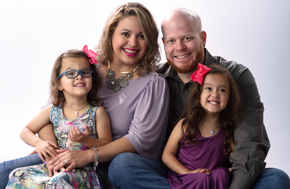 Suddeth Family Photo
Rosimar Suddeth and her husband, Tommy, were elated when they found out that she was pregnant for the first time. A few weeks later, they were even more surprised to find out they were having twins! At first, the pregnancy was completely normal, but at 23 weeks, Rosimar feared something was wrong. She called Tommy, who told her to head straight to her doctor.
Rosimar was in pre-term labor. Doctors prepped her for an emergency procedure to slow it down, but it was too late. Eva's fetal membranes had ruptured.
The only thing Rosimar's doctors could do to prevent full labor was to admit her to the hospital and place her on full bedrest.
She spent the next 11 days at Texas Children's Pavilion for Women. At 24.6 weeks gestation, Eva and Layla were born, weighing just over a pound each.
The tiny babies were taken directly from the delivery room to the neonatal intensive care unit (NICU).
"Every day we learned about all the things that could happen with babies as small as ours," Rosimar said. "As difficult and heart wrenching as it was, everyone at Texas Children's gave us comfort in the middle of our worries. We knew this was the best place for us to be."
Both girls were born with a hole in their hearts, a condition called patent ductus arteriosus (PDA). While the hole in Layla's heart closed on its own, Eva's showed no signs of doing so. If left untreated, PDA can cause heart failure and other complications. Eva's lungs were also severely underdeveloped, and it was clear that she would need surgery quickly."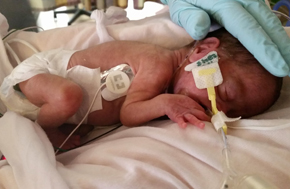 "I remember the anesthesiologist spending so much time studying Eva before surgery, and the cardiologist was so reassuring that even with Eva being so small, this operation was her best option," recalls Rosimar.
Eva was just 12 days old when the surgery was performed. It was a success, but she still had a long road ahead. Both she and Layla spent the next four months in the NICU at Texas Children's.
"One of the hardest parts throughout the entire process was not being able to hold our babies," Rosimar said. "We had to wait two weeks before holding Layla and one month before we could hold Eva." The wait was excruciating for the first-time parents, but the NICU nurses encouraged Rosimar and Tommy to have as much contact as possible with the girls through touch and skin-to-skin contact.
"We were very much involved with every part of caring for the girls," Rosimar said. "The doctors and nurses asked us questions and explained things so well—they wanted us to understand and be a part of the girls' care. That alone says so much about how wonderful Texas Children's NICU really is. The resources this hospital provides helped us keep going at times when we wanted to break down."
From the moment the girls were born, Eva and Layla were fighters. They overcame every challenge and were able to go home after four months.
The Suddeth family says that their faith, friends, family and Texas Children's are what got them through the most difficult part of their lives.
Today, Eva and Layla are thriving. The girls just celebrated their 4th birthday and started pre-K this fall. "We attribute the girls' success to the wonderful care they received at Texas Children's," said Rosimar and Tommy. "We live every day celebrating and cherishing every single moment we have with our girls."