The Greatest Blessing of All
Eva Johnson and her husband, Philip Quartey, were excited to be expecting their first daughter after having two sons.
They decided they'd name her Blessing Deloris in honor of Eva's late mother, Geraldine Deloris. Geraldine had been sure Eva would have a girl one day.
"We named her Blessing because she was our little blessing from my mom," Eva says.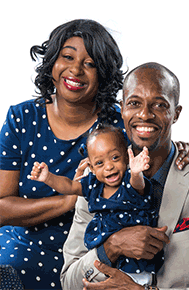 Blessing with Parents
Because Eva's sons were both premature—born at 35 weeks and 32 weeks—she suspected her daughter would come a bit early as well. But, she came even sooner than expected; Eva's amniotic sac broke on July 23, 2018, when she was only 23 weeks pregnant.
Eva had originally planned to have her baby at another hospital, but because of her high-risk condition, she was transported by the Kangaroo Crew to Texas Children's Pavilion for Women.
"They gave me some medication to delay labor and she was born at 24 weeks and six days," Eva recalls.
On August 5, 2018, Blessing was born weighing only 1 pound, 8 ounces. She was taken directly to Texas Children's neonatal intensive care unit (NICU).
"Blessing was a super hero," Eva says. "She was only on the ventilator for four or five hours. That gave me more hope that she would be okay."
Blessing stayed in the NICU for a total of 136 days, each day spent with Eva by her side.
"When they brought her to me, I was afraid because she was so small and fragile," Eva recalls, "but the staff taught me how to hold her and take care of her and explained what she was going through. The more I learned, the more I was naturally able to care for her on my own. This learning process helped calm me down. It took me a week to feel comfortable holding her."
The NICU nurses not only took care of Blessing, but also of Eva, which meant so much to her.
"The nurses groomed me, treated me and told me to take time for myself. They were genuinely concerned for me and assured me they'd take care of Blessing as if she was their daughter. I've never seen anyone take such good care of someone like they did. It brings me so much joy to have them in our lives."
On top of that, Eva was impressed with the rest of the staff at Texas Children's Pavilion for Women who were very helpful.
"The volunteers took photos of Blessing every week she was in the NICU. Each and every person on the eighth floor, from the volunteers to the receptionist, talked to me and they were always laughing with me and became like family. The services provided were just amazing."
Blessing was supposed to be released on December 15. However, Eva, an Army Reservist, was called back on duty for a week. This caused a setback for Blessing.
"She went through separation anxiety while I was on duty," Eva says. "She wouldn't take a bottle from anyone. I had to put in extra hours with her when I returned to get her back on track."
Two days before Christmas, Blessing was finally able to come home, weighing a healthy seven pounds. Because she was born prematurely, Blessing continues to receive follow-up care at Texas Children's and is doing well. Having Blessing home continues to bring so much joy to her family.
"Even with all she's been through, she's very happy," Eva explains. "She's doing a lot of things earlier than expected and she lets us know everything's going to be okay. She gives me a sense of peace and the strength to know that I can do anything."
Support families with stories like these by registering for
The RBC Wealth Management Bad Pants Open: