Promises Kept: Campaign Stories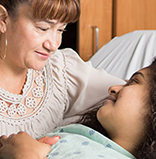 Karla's Story
At just 13 years old, Karla was diagnosed with a congenital heart defect. Her condition threatened not only her dream of graduating high school — it threatened her life. When medication did nothing to alleviate her symptoms, experts at Texas Children's Hospital decided that surgery was her best option. Weeks later, Karla walked across the stage at her graduation with her family cheering her on. Texas Children's Hospital saved Karla's life and helped turned her dream into a reality. Texas Children's Hospital treats the sickest children — just like Karla — with conditions so complex they simply can't receive the world-class care they need at any other hospital. More and more families are coming to Texas Children's for life-saving care.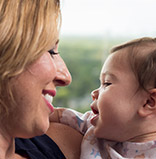 Juliana's Story
Juliana's care at Texas Children's Hospital began in the months before her birth due to a severe congenital heart defect. Her family feared the worst when she was also born prematurely. Doctors knew that a transplant was Juliana's only chance for survival, and at only 17 days old, she underwent life-saving surgery. "We felt really fortunate that we were able to be at the best facility, with the best doctors," said Riki, Juliana's mother.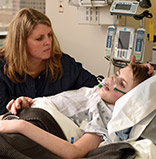 Charles's Story
When Charles desperately needed expert care for a collapsed lung, his family raced from their home north of Houston to Texas Children's Hospital — more than 40 miles away. That's too far, especially when every second counts. The Promise Campaign is bringing world-class dedicated pediatric emergency care close to home for thousands of families — at Texas Children's Hospital The Woodlands.