The Forum Luncheon
Unraveling the Mysteries of the Brain
Save the date
Monday, April, 10, 2017
11:15 a.m. -- 1:00 p.m.
Houston Marriott Marquis
Join to hear Dr. Huda Zoghbi discuss the extraordinary advances being made in neurological research -- and the hope they offer for the future.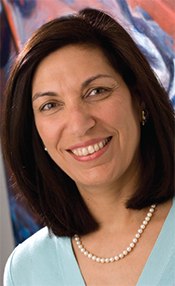 Dr. Zoghbi is director of the Jan and Dan Duncan Neurological Research Institute. She was recently awarded the 2017 Breakthrough Prize in the field of Life Sciences and is an advisor to the exciting new Chan Zuckerberg Initiative.
The Jan and Dan Duncan Neurological Research Institute at Texas Children's Hospital (NRI) opened in December 2010. Dedicated to improving the lives of patients facing devastating neurological disorders, the NRI is a basic research institute committed to understanding the pathogenesis of neurological diseases with the ultimate goal of developing treatments. For more information, please visit nri.texaschildrens.org
For more information about The Forum Luncheon Houston or to RSVP, please contact Casey Stranahan at forum@texaschildrens.org or 832-824-7190.